Thumper is the friend of Bambi and Flower. But of course, Thumper can be seen during Bambi's birth celebration. Which reveals that Thumper is older than Bambi, or he is a adolescent rabbit who tends to grow up at the end of the film. He encourages his family. He dislikes his younger sisters, because they tease him and Diamond, my fan-made name for Thumper's mother. Agrees with her daughters. In Bambi II, he is teased and that reveals that their personality is cheeky, adventoures, clumsy, teasy, and funny.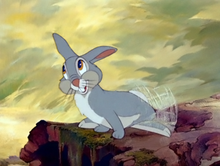 Ad blocker interference detected!
Wikia is a free-to-use site that makes money from advertising. We have a modified experience for viewers using ad blockers

Wikia is not accessible if you've made further modifications. Remove the custom ad blocker rule(s) and the page will load as expected.